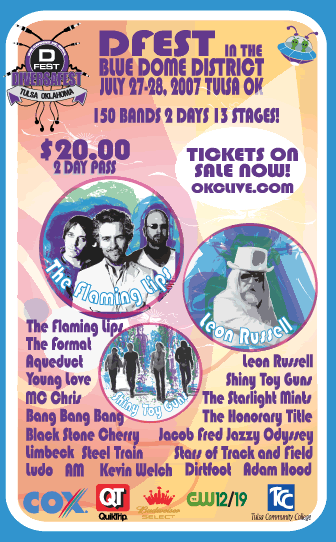 Note: Young Love dropped out, but everything else on that is correct.
http://www.dfest.com/fridayschedule07.htm
http://www.dfest.com/saturdayschedule07.htm
http://www.dfest.com/map.htm
Who's going? Who are you excited to see? I'm excited for Ludo, Steel Train, The Format, The Effects, Admiral Twin, Congress Of A Crow, Minutes Too Far, Steve Liddell, Amos Lee, Shiny Toy Guns, The Starkweather Boys, Bryan Jewett, Citizen Mundi, RadioRadio, Winter Circle, Kunek, Limbeck, Dustin Pittsley, Cody Clinton and the Bishops, and The Pearls.
x-posted to
tulsatime